Well I have been looking at Broadband / TV packages for a holiday home and didn't really want to spend a fortune on something that won't be used that much (because the UK weather is going to be great and I will be on the beach all day every day etc) - BUT the pessimist in me says it will be pouring with rain at least 5 out of 7 days a week
So . . . . .
Cheap Phone and Broadband, and Internet TV.
I have a Roku box which gives me some channels as well as Netflix and Blinkbox but I wanted something that could be "adapted" to also give me a wider selection. I have read a lot about a little Chinese Android box called an MK808B which, out of the box, gives you Android 4.1 on a mini PC about the size of a KitKat bar. Lots of mods available for it, tweaks, hacks etc. I have ordered one with a customised ROM and XMBC loaded, along with the necessary links to 1,000's of TV channels (free and not-so-free officially).
As lots of lnks to streamed TV channels are now blocked by ISP's due to court orders, the ability to view IPTV has become more difficult. A couple of PC/iPad/XMBC programs are listed below for people to try themselves.
FilmOn - streams 1,000's of TV channels from Worldwide sources and has a dedicated UK TV section. Free version is OK, paid version gives you record capability.
CatchUp TV - streams UK channels, but not as good as they used to be as some channels were removed following court action.
NOTE : If you have an iPad / iPhone the above apps WILL WORK with an HDMI out cable (tested today).
The XMBC will run on lots of OS's and, interestingly, a users set-up is transferrable between (for example) a PC install, an Android install, a Linux install, an Xbox install etc. so you only need to set it up once and can transfer it to other units.
The unit I have bought . . .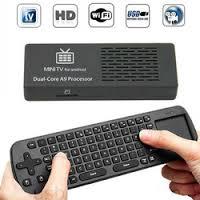 Model MK808B
RC12 Remote keyboard and mouse ( The mouse works like a laptop mouse)
The stock ROM will be used unless you specify that you would like the Finless custom ROM installed instead
FREE MOVIES, FREE TV CHANNELS FROM AROUND THE WORLD, FREE ***SPORTS, FREE ** SPORTS
Turn any TV with an HDMI port into a Smart TV,
Play games, listen to music, watch videos, stream media, browse the web, email and social networking.
The operating system is Android version 4.2.2.
The system comes preinstalled with XBMC "Frodo" 12.3
Aptoide is installed, This is an app market which offers more apps than Google Play
(Google play and all the standard apps you would expect to find are also installed)
XBMC is installed with (navi-x, sportsdevil, filmi by nature, hulu, mashup, videodevil, icefilms, 1channel, fastpassTV, free movies) as standard,
navi-x, allows access to other users playlists
Each addon is tested to ensure that it starts and that no script errors occur. Fusion, Finity and Superrepo are installed as standard so that you can install ANY other addon that either is available or becomes available (EASY TO USE). Four mouse clicks to install almost any XBMC addon.
VIDEOMIX PRO is installed, This is an app which allows access to movies and TV shows
If you want MOVIX installed, then I will but its identical to Videomix so seems a little pointless!!!!
XBMC This app is Xbox Media Centre and is the best media centre available for Android. I install the following repositories to enable easy installation of the majority of new Add-ons for XBMC ( Four clicks to install your selected addon)
Sportsdevil..... To view live sports from around the world (includes sky sports). Pick the sport rather than the channel. Currently not very good. Use Mashup or Navi-x!!
Videodevil...... For all your adult movie requirements (Will not be installed if requested)
Navi-x....... Streamed Movies and Sports and TV channels from around the world
Mashup...... Streamed Movies and Sports and TV channels from around the world
Icefilms...... Streamed Movies, Old and New
1Channel..... Streamed Movies, Old and New
Filmi by Nature...... Streamed Bollywood Movies
Desirulez........ More Bollywood
Awaiting deliver, will update with a report when I have it to-hand.
Jeff